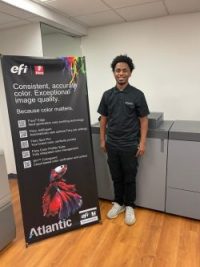 Congratulations to the MRF Printing Vocational Training Program Class of 2022
The first graduates of the Mariano Rivera Foundation Printing Vocational Training Program are ready.
At EFI Connect in January 2022, the printing industry learned about the incredible work being done by the Mariano Rivera Foundation to bring mentorship, life skills, STEM education, and vocational training to at-risk youth. This training will not only change the lives of talented young men, but thanks to the support from industry vendors such as EFI, Konica-Minolta, Ricoh, Idealliance, Printing United Alliance, and Adobe, it will funnel much-needed talent into the printing industry, as well.
The Mariano Rivera Foundation was founded by Yankees Hall of Fame pitcher Mariano Rivera, who has a heart for providing the same types of opportunities for at-risk youth as he was given as a child growing up in poverty in Panama. The headquarters are housed in a church property in New Rochelle, N.Y., until the foundation's permanent 40,000-square-foot, state-of-the-art training facility can be completed.
The foundation began offering vocational training in printing (the Print, Design and Packaging Development [PDPD] program) thanks to Luis Villa, vice president of production print – CIP of Atlantic Tomorrow's Office (ATO), who connected with Rivera through a mutual contact. Villa saw an opportunity to provide career opportunities for these students while addressing the printing industry's need for new talent at the same time. Larry Weiss, president of ATO's Atlantic, supported the effort, and ATO has been an integral facilitator in launching the program and continuing to expand its robustness and reach.
The PDPD program is run out of Gainesville, Fla. Konica-Minolta, Ricoh, EFI, and Idealliance helped get the program off the ground by providing training modules and "train the trainer" support. Students receive the same training as members of the printing industry, and they have the opportunity to achieve coveted industry certifications.
"Once they graduate from the program, we consider them more than entry-level," said Villa. "We consider them 'entry-level plus.'"
A second training center is set to open this July in Carlstadt, N.J., using space in the building leased by Premium Color Graphics.
The first students in the Gainesville PDPD program have completed the Konica-Minolta Outward Associate Certification, which is the first step toward a Konica-Minolta instructor-led hardware class. Six students have completed the full set of EFI Fiery Professional Certifications, to be followed by completion of Ricoh's Learning Institute and the Color Management Professional (CMP) certification from Idealliance.
The last week of April, Villa is flying to Gainesville to prep the students for job interviews. Later in May, local printers and participating copier and printer dealerships will have the opportunity to interview them as potential hires.
"The benefit to them is not just the ability to hire highly qualified employees," said Villa. "It's the EFI Fiery and CMP certifications those employees bring with them."
Atlantic Tomorrow's office knows the value of these students first-hand. Villa hired one of the participants in MRF's programs, Leevinsky Leonard, in January. Although Leonard did not go through the vocational print program, Villa recognized his talent and has been training him in-house. "He has been with us for several months and is doing great," said Villa. Leonard's first week on the job, Villa recalls, he was preparing to meet one of the ATO techs in the field. "He sends me a text at 6 a.m. 'I'm ready to go. Who am I meeting?'" said Villa. "Can you imagine? A 19-year-old kid saying, 'I'm ready to go'! He's pleasant. He's nice — and he's motivated. Almost right out of the gate, I sent him to a Konica-Minolta install with one of our veteran technicians." Once Leonard finishes his training, Villa is making him part of his Westchester team as a production field support engineer. The foundation is also excited to announce that the Carlstadt, N.J., training site has been officially approved to hold classes. The plan is for these classes to start at the beginning of July, with students to be selected for the program in May.
"Because there is a full working print facility in that location, these students will have a real advantage," said Villa. "They will have access to Premium Color's prepress, digital production (two Ricoh full-color C9210s and a Ricoh black-and-white 8020, all with Fiery controllers), industrial wide-format (EFI wide-format H5 and LXPro3 and Mimaki rollfed wide-format); and full finishing department with four top-of-the-line Esko/Kongsbergs. That is a huge advantage."
Premium Color Group is also one of only three printers in the country that can print and customize images on tissue paper. This provides students with unique highly marketable experiences. Although the students in Gainesville work online, they will be flown up to get 40 hours of hands-on training at Premium Color later this spring. With the Carlstadt, N.J., location ready to launch, the foundation is targeting Houston as its next training center. "There are tons of printers in that area," said Villa. "Soon, they will have a stream of potential employees coming in with a significant skill set." In addition to offering free online training and certifications for students, EFI is adding ride-alongs with its field engineers in the Gainesville area. Other heavy hitters like Alphagraphics are looking for ways to be involved, as well.
In May, Printing United Alliance will brand part of its "I Learning Plus" 70-course training program to the Mariano Rivera Foundation. "It's the same content everyone else will get, but when students or someone from the foundation logs in, it will be branded to them," Villa said.
Villa is also creating his own course catalog that divides the modules into three different levels—field support tech, design and prepress and packaging/wide format—to help students identify potential career paths upfront.
In June, in the New York/New Jersey area, the foundation will offer two internships in Lean Six Sigma certification.
In August, Adobe certification will be added.
"Gainesville will be the only vocational training center with Adobe-certified training," said Villa. "We'll train one of our existing trainers on the modules so we will have Adobe-certified instructors on staff.
"The EFI Connect program really put us on the map. This was supposed to be an addition to the original Mariano Rivera Foundation Program, and after Mariano's presentation at EFI Connect, the print industry has embraced this program, and it is turning out to be one of the biggest things they do."