Key Insights Smart CIOs are Gaining From IT Assessments
In today's fast-paced business world, business leaders are forced to embrace technology as it plays a vital role in driving efficiencies, growth and competitiveness.
The success of every organization is defined by their ability to continually, efficiently and quickly innovate to keep pace with competitors. While technology is essential for growth, keeping pace with it as it continues to evolve every day is a major challenge. This is why it is crucial to assess your IT infrastructure to ensure that it's equipped to meet the demands of your organization and customers.


However, without the proper insight, it can be challenging to know if your organization has a strong technical foundation and is using its technology resources to its fullest potential. An IT assessment is a great place to start for progressive business leaders who need insight and control over their technology environment for meeting their operational and strategic initiatives.
An IT assessment provides leadership with the comprehensive evaluation an organization's information technology systems, processes and resources. It's designed to identify inefficiencies, security vulnerabilities, and opportunities for improvement. The goal is to provide a clear understanding of their IT capabilities and limitations as a basis for recommendations for addressing any identified issues.
How is an IT Assessment Conducted?
An IT provider typically follows a process that includes planning the assessment, collecting data/analysis, reporting the findings, and providing follow-up services.
During planning, all stakeholders collaborate to establish the assessment's goals and scope and identify which areas will be evaluated. Data collection typically begins with interviews with stakeholders, reviewing current documentation, systems, applications, resources and possibly analyzing system logs.
The collected data is then analyzed using various techniques, such as network scans, gap analysis, SWOT analysis, or root cause analysis. Next, the findings and recommendations for improvements are consolidated in a report that is to be discussed with the appropriate stakeholders. Finally, the provider may offer follow-up services such as project management or technical assistance to help implement the recommendations.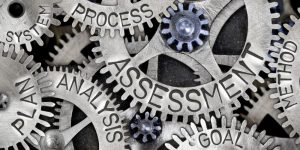 Key IT Assessment Insights
An IT assessment can provide many valuable insights into an organization's IT infrastructure and processes. An IT assessment can:
Improve Efficiency: Identify areas of inefficiency such as outdated hardware and software, poor network infrastructure, data duplication and lack of standardization to improve efficiency.
Ensure Alignment with Business Goals: Ensure that your technology systems and processes align with your overall business goals. It helps to identify any technology-related roadblocks or insufficient skills that may be hindering your organization from reaching its full potential.
Identify Potential Risks: Technology is constantly changing, and it's crucial to assess your IT infrastructure to proactively identify any potential risks. An IT assessment can help identify current vulnerabilities, security risks or other risks which can impact future growth before they cause significant damage or obstacles to growth.
Facilitate Planning and Budgeting: Help organizations prioritize investments in their IT projects and budget allocation by identifying the most critical systems, processes and team skills that need improvement to justify the most cost-effective, highest return solutions to address identified issues.
Stay Ahead of Competition: By regularly assessing your organization, you can ensure that your organization is equipped to stay ahead of the competition by employing the skilled resources and expertise necessary to quickly adopt new technologies and innovative solutions.
In Summary:
An IT assessment is a valuable and powerful tool for organizations looking to optimize their technology systems, processes and investments. By providing a comprehensive evaluation of the organization's IT infrastructure, including hardware and software, network infrastructure, data management, and business processes, an IT assessment can help identify areas of inefficiency, security vulnerabilities, and prioritize investment opportunities for improvement.
By implementing the recommendations an IT assessment provides, businesses can be sure that they are using their financial investments and technology resources to their fullest potential and staying ahead of the curve in today's fast-paced technological landscape.
Schedule your IT assessment with Atlantic today and take the first step to growth by improving the efficiency and security of your business's technology infrastructure.
About Atlantic, Tomorrow's Office
Atlantic is an award-winning office technology and IT solutions company providing Imaging Products, IT Support, Document Management, Cybersecurity and Managed Services to small and large companies in the New York City metropolitan area, and the Greater Philadelphia and Delaware Valley.
For the latest industry trends and technology insights visit ATO's main Blog page.