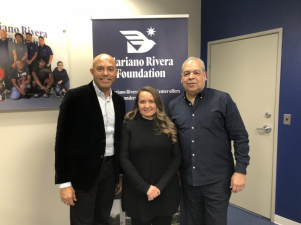 Mariano Rivera Foundation and ATO Build on Partnership to Expand Vocational Training Program for Underserved Youth
Mariano Rivera, Major League Baseball Hall–of–Famer and philanthropist, countinues a partnership with printing companies and suppliers to create a vocational training program for underserved young people.
Through his foundation, he is building two dedicated training centers in Gainesville, FL and New Rochelle, NY, and a third in Houston, TX, providing students with career education and 1:1 mentoring. Upon completion of the program, students receive a professional certification which is widely recognized by the industry as a competitive job qualification and they are "basically job guaranteed." The program is being recognized and supported by the Print & Graphic Communications Association (PGCA).
Atlantic Tomorrow's Office (ATO) is acting as the principal liaison to the Mariano Rivera Foundation, connecting the foundation to printing companies and suppliers to create the vocational training program. ATO's Luis A. Villa is working to expand the program, helping to open three dedicated training centers across the country. The program offers students a chance to gain specialized knowledge and certifications that will make them instantly attractive to employers. ATO is committed to helping students gain the skills they need to enter the graphic arts workforce.
Through his namesake charitable foundation, the New York Yankees legend is also building a second dedicated training center where students will receive, in addition to career education, the 1:1 mentoring experiences that Rivera and his present–day team see as equally vital to the students' long–term success. The first of these centers, located in Gainesville, FL, has produced its first crop of job–ready graduates. It is to be joined by a 40,000–sq.-ft. facility that the Mariano Rivera Foundation plans to break ground for in New Rochelle, NY, this spring. A third such facility will open in Houston, TX, in June, according to Luis A. Villa (Atlantic Tomorrow's Office), who is acting as the industry's principal liaison to the foundation.
Through the efforts of Luis A. Villa and Atlantic Tomorrow's Office, various printing companies are joining the cause. Premium Color Group, a commercial printer has provided a hands–on training classroom for new students in its Carlstadt, NJ, plant. Rivera visited the plant on January 17 to review the setup and to meet with about 20 local educators who had been invited to the open house to learn about the program for themselves. Villa said that on February 13, six to eight students from the guests' school systems will begin training at Premium Color Group, where they will supplement their classwork with practical exercises on the company's graphic equipment. Another New Jersey printer, Sandy Alexander, has committed to offering students the same kind of learning experience in its Clifton plant in the first quarter of the year.
The curriculum at all of these sites aims to give students skill sets that will be instantly attractive to employers. The study, provided completely free of charge, consists of up to 360 lecture and lab hours spread over sessions that cover design for wide–format; workflow and print; finishing; products; and business management. Students can select the areas in which they'd like to concentrate. Those training at Premium Color Group will come to the plant twice weekly after their regular high school hours for classroom lectures, hands–on work in the production areas across the hall, and 1:1 mentoring meetings with their volunteer counselors.
What makes the program unique as a career–building opportunity is the fact that upon completing it, each student will have earned a professional certification that is widely recognized by the industry as a competitive job qualification. Taught by professional instructors from the vendors that created them, the certifications that students can choose from include EFI's Fiery Professional and Expert Certifications; Color Management Professional certification from IDEAlliance; product–related and other certified training from Konica Minolta; Ricoh's Digital Literacy curriculum, designed by CalPoly; and advanced skills in the industry's most widely used Adobe applications. Students who complete their full courses of study also will be trained in Lean Six Sigma Project Management by Six Sigma Black Belt instructors.
Click HERE to read the full article on this project, featured on piworld.com