The Top 9 Trends in Production Print
The print industry is continuously developing new technology to meet today's challenges and provide more value for their customers.
Here are nine trends in production print to embrace so your business can realize a competitive advantage.


1. Continued Shift to Digital Printing
Practically every industry is trending toward digital technology. The print industry is no different.  Digital printing provides a convenient, affordable, and efficient way for printing digital content directly to a variety of different mediums. Digital files like PDFs can be sent to a digital printer and printed directly on:
Paper
Canvas
Cardstock
Plastics
And more…
According to Smithers, a multinational consulting and information firm, the share of pages created on digital printers will rise from 17% in 2019 to 21% in 2024.
2. Focus on Sustainability
As businesses continue to improve on environmentally friendly practices, reduction of waste is realized through on-demand printing for customized materials. Instead of companies having to place large orders to keep prices down, they can now order only what they need, and if changes are needed later, there are far fewer materials going to waste. To further practice sustainability, businesses are also recycling more to decrease wasted paper, ink, cartridges, and other by-products of the printing process.
3. Variable Data Printing
Advertisers use mailers and other printed media to increase brand awareness, advertise products, and entice new customers. Variable Data Printing (VDP) allows for customized messaging for specific recipients. Using software and data spreadsheets, personalized messaging is easily achieved by automatically changing the output of a digital printing press.
As an example, an auto dealer can customize mailers with individual customer names and vehicle types.  People who purchased SUVs can have customized mailers with images of SUVs, while those who purchased trucks can have mailers with images of pickups.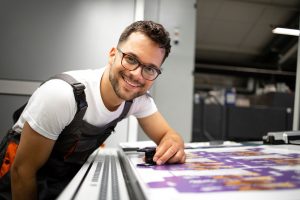 4. Digital Label Printers
Virtually every physical product needs a quality label, and digital label printers make it possible to print short-run packaging. With digital label printers businesses can:
Produce high volumes of labels quickly and easily
Deliver customized labels
Respond with on-demand output for special events and promos
Help products reach shelves faster
5. Expanded Product Offerings
To stay competitive, print shops often consider expanding their products and services with enhanced printing options and special effects instead of getting into a market they may struggle in. Offering a variety of enhanced services, businesses can charge a premium for their services with minimal risk.
6. Special Effects & Finishings
The technology to produce special effects and eye-catching finishings greatly enhances the appeal of printed marketing materials. Laying down neon, white, clear, or customer toner in specific locations makes the printed piece more attractive to the recipient.
Adding varnish to create 2D or 3D effects, and foil, metallic, laminate, and gloss make printed materials stand out. "Shimmering" can be used to draw attention to certain areas, and laser cutting can create unique textures.
7. Printing on New Substrates
The ability to print on non-paper-based substrate materials is one of the top selling points today. The demand to print on glass, textiles, metal, and specialized packaging materials is growing in demand. As this technology improves, businesses will benefit from efficiency and customization on countless new coated materials, such as layered paper, plastic, and PVC.
8. Streamlining Workflows & Moving In-House
Streamlining workflows is essential for any business that conducts printing operations, and many are achieving this efficiency by moving their processes in-house. In addition to cost savings, businesses achieve greater control and make changes quickly.
Although large-scale printing of top-quality materials is still best done by commercial print facilities, bringing printing in-house and creating streamlined processes can result in faster changes and quicker project completions times.
9. Short-Run Printing Focus
Digital printing has made on-demand, small-run printing more cost-effective and efficient, and creates new opportunities for consumers and print businesses.
Tracking Production Print Trends
Figuring out how to remain a viable production print business or in-house facility can be difficult but knowing industry and consumer trends can help guide teams to adapt to new demands of production print.
About Atlantic, Tomorrow's Office
Atlantic is an award-winning office technology and IT solutions company providing Imaging Products, IT Support, Document Management, Cybersecurity and Managed Services to small and large companies in the New York City metropolitan area, and the Greater Philadelphia and Delaware Valley.
For the latest industry trends and technology insights visit ATO's main Blog page.