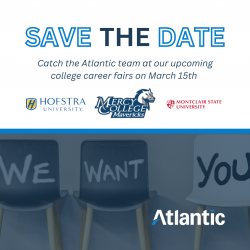 Here we GROW again!!
The Atlantic team is set to exhibit at upcoming collegiate career fairs.
Calling all graduating college seniors! We are growing by rapid numbers and are excited to welcome the next generation of office technology professionals.
We will have different representatives at three different career fairs on Wednesday, March 15th – If you are a graduating senior, preparing to make your mark on the world in the following areas, then stop by our booths and see how your career can really make an impact! We will be talking with our next wave of talented team members at HOFSTRA UNIVERSITY, MERCY COLLEGE, & MONTCLAIR STATE UNIVERSITY
Sales/Account Management
IT/Cybersecurity 
Service Technicians 
Human Resources
Marketing
Finance
Make an impact.  Accelerate your career. Unleash your personal potential.
Join a cutting-edge team of industry experts, work in a collaborative setting, and put our resources into action to help organizations leverage our holistic approach to business technology. We're looking for dedicated, driven, hard workers like you that share our passion for excellence in a variety of roles and marketplaces
Click HERE to check out our careers page and learn more about Atlantic Tomorrow's Office
We celebrate the entrepreneurial spirit and are committed to doing what's right for our customers. Guided by its relentless commitment to customer satisfaction, Atlantic Tomorrow's Office is regarded as the pre-eminent provider of office technology solutions. We leverage industry-leading technology and people to identify and implement innovative, sustainable solutions that enable our customers to enhance productivity while managing costs.
Come discover our progressive culture, a diverse range of career opportunities, and a fast-paced workplace where performance is rewarded.
Our upcoming career fair schedule is as follows – Click the links to sign up and learn more!