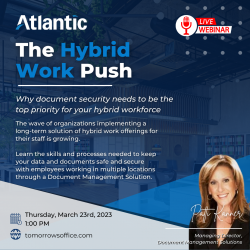 Webinar: The Hybrid Work Push
The wave of organizations implementing long-term solutions of hybrid work offerings is growing.
Forbes, Inc. Magazine and the Harvard Business Review have all featured content on the pros and cons of organizations bringing their workforces back in either a hybrid or full-time capacity. Many of these articles provide insight into the managerial or cultural dynamics that this shift may have on teams – One key aspect that is seldom discussed is the need for actionable processes and workflow around sensitive data and documents.
With teams working in multiple locations, security risks come into question and need to be addressed as more and more of the workforce repopulate offices across our region.
This free webinar will be held on March 23rd at 1:00 PM
Learn the skills and processes needed to keep your data and documents safe and secure with employees working in multiple locations through a Document Management Solution.
Click HERE to register for the free event
We recently published a new eBook that covers how we, as an organization, position our Document Management solutions. This comprehensive guide goes through industry trends and statistics regarding the pitfalls of manual and paper processes as well as compares some of the most frequent challenges our clients face and the solutions we provide.
Click the image below to download your free eBook and take the first steps toward your organization's digital transformation